Ingredients Imported by GBS
Ingredients Imported by GBS
The perfect coffee experience one has is essentially based on the taste of the coffee itself, thus having ingredients imported by GBS would aid you in achieving that. Now you're probably wondering, why the right ingredients are important for making good beverages such as coffee and many other beverages?
As a person who wishes to enter the realm of coffee and the making of other beverages, blindly stepping foot into it isn't exactly the way to go. Obviously, people know that flavor is the answer and has everything to do with drawing in and keeping one's palate excited. Moreover, what causes flavorings, it's the right ingredients isn't it. Therefore, ingredients are playing the major role here. Having the best ingredients imported by GBS is exactly it. So, what exactly are the ingredients GBS imports?
You might also be interested in our How To Create Your Own Specialized Drink?
---
Since, coffee is one of the most popular drinking menu, coffee bean plays the role of a king in it. Before diving into the varieties of beans GBS imports, one should have the apprehension of the 2 types of coffee beans first. They are Light Roast Vs Dark Roast:
Light Roast: has more of an origin flavor to it bringing out the nature of the coffee, revealing traces of sweetness, has a subtle floral scent and even fruit tanginess to it.

Dark Roast: has more of a toasty taste, overshadows the origin flavors, bold, sweet and rich which is full of texture. Due to it being oilier, it tends to be bittersweet as well as has a chocolaty, decadent flavor.
However, the similarity between both light and dark roast coffee bean, is the amount of caffeine. The taste might differ but not the caffeine kick. A suggestion would be to have dark roast for latte and light roast for espresso. Mainly because dark roast compliments milk better.
Here are the list of ingredients imported by GBS to make a delightful cup of coffee:
Some coffee connoisseurs love their coffee pure black. They like it strong and doesn't want anything to dilute the flavor or minimize the aroma of their coffee, hence they need these Coffee Beans:
---
Coffee Bean – AROMA
"AROMA" is a blend of coffee made from fine Robusta (60%) and Arabica (40%). Origins of this beans are from 3 differing continents, America (Central America), Africa (Tropical Africa) and Asia (India). With mixing fragrance of hazelnut, vanilla and roasted cereals. As for the aftertaste, it's both pleasant and persistent.
---
Coffee Bean – AURORA
"AURORA" is a blend of coffee made as well from Arabica and Robusta, but with a much more balance ratio (50 -50) then "AROMA". The beans used in the making are from India, Ethiopia and Brazil. Alongside an aromatic scent of floral, delicious sweet chocolatey aftertaste and roasted cereals. Comes in a dark hue of hazelnut.
If you're not one whose preference is strong black coffee, then you would probably want to soften it with milk or cream, while still maintaining the coffee fragrance. Therefore, you need this coffee cream:
---
VANILLA CREAM
Vanilla just goes well with everything, it compliments coffee and other beverages very well too. This specific cream, layers effortlessly on your hot drinks, thus designing patterns with it becomes a breeze. Not to mention, the woody and floral scent would attract anyone.
---
CARAMEL CREAM
Who doesn't like caramel flavorings? Some might find it overpowering, but not for this caramel cream's case. Somehow, this caramel cream is a great additional ingredient to spike up your coffee's taste or even any other hot beverages. On that note, this cream is gluten-free too.
---
WHITE CHOCOLATE CREAM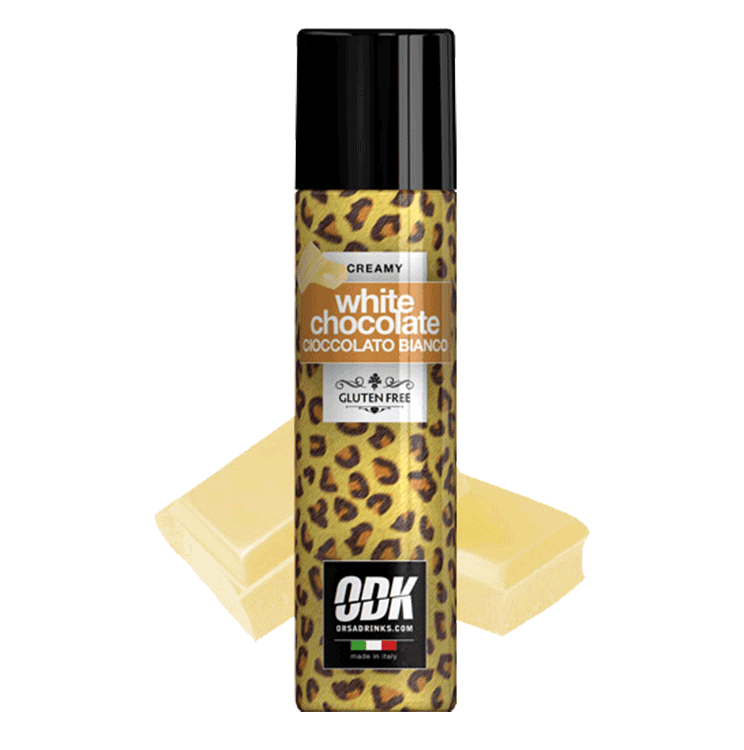 The sweetness of white chocolate is desirable by many. Thus, it just suits inevitably with any hot drinks and especially a hot cup of coffee. Imagine this, a cup of hot coffee overlaid with white chocolate cream, isn't it just perfect for the taste buds.
*All these creams are perfect for coffee based drinks, latte art, and milkshakes. Even for mocktails and cocktails as well. All are Gluten-free too.
Now, you have diluted your freshly made black coffee with coffee cream already, but there's a missing element to it. A little sweetness from Syrup:
---
GREEN MINT SYRUP
Mint is absolutely the most potent flavor and fresh smelling ingredient ever. As much as one loves the scent of freshness delivered by mints, using it moderately is advised. A smidgen would do your drinks a whole world of good.
---
CARAMEL SYRUP
The smooth and subtle flavor one could really mix into a drink to make sure, it's enjoyable might be caramel syrup. If using in place of cream for coffee, that would be a fabulous way to spice up the depth of flavors brought out mostly from the coffee itself.
---
CHOCOLATE SYRUP
All rounded, most beloved flavorings by most kids and adults would be chocolate. Hence, giving this chocolate syrup an upper-hand in relative to the rest. But, more than just sweetness, this chocolate syrup erupts a bit of bitterness and creamy texture in one's mouth upon drinking the concoction as well.
*All these syrups are perfect for coffee based drinks, latte, milkshakes, smoothies, lemonades, cocktails and mocktails. All are Gluten-free too.
Here are ingredients imported by GBS to help you make amazingly flavorful seasonal drinks or any other beverages aside from coffee as well:
As you're not much of an avid coffee consumer, you'd rather go for a juice or fruit seasonal drinks. Well then, how about making your own fruity seasonal drink with these Fruity Mixes:
---
Blackberry Fruity Mix
Facts about blackberries are that they are grown in Europe (Central and Eastern) and on bushes called brambles. Plus, this blackberry fruity mix is free from any genetic modification, which means it's all organic and healthy for you. Not to mention, the scarcity of having anything that is of blackberry flavorings.
---
Lychee Fruity Mix
Another little known fact about lychees, is that they're found on evergreen trees that could reach a height of 100ft. Lychees were first discovered in China and this Lychee fruity mix uses the lychees from the original source (tropical forests of China). Lychee has a unique fragrance and taste to them that would really harmonize with most drinks.
*All these fruity mixes are perfect as toppings, garnish, for milkshakes, smoothies, lemonades, cocktails and mocktails. All are Gluten-free and colored with natural fruits and vegetables.
Another secret ingredient one could sprinkle in, to make sure the naval senses are strongly impacted by the drinks you make, as well as the taste buds, is Powder:
---
VANILLA POWDER
First of all this vanilla powder is of natural flavor, is color-free and palm-oil free. Secondly, it's so easy and quick to prepare, just add milk. And the texture that comes afterwards is smooth and creamy. Now, who doesn't like that?
---
CARAMEL POWDER
Since, its caramel powder, this would give off more of a toffee taste when drinking. Much like the above this is also free from colorings and palm-oil. Dare I say, it's healthy for you, in a sense. Likewise, the texture is smooth and creamy.
---
CHOCOLATE POWDER
A little different from the 2 above, this chocolate powder has a velvety texture to it. Taste-wise it's really chocolatey, because it is actually 35% cocoa. But, the weird thing is that is gives off a vanilla scent instead. Extremely unique to the taste buds.
*All these creams are perfect for coffee based drinks, latte art, and milkshakes. Even for mocktails and cocktails as well.
** For additional information: https://www.gbs.com.kh/ or read our latest contents to find out more about coffee making and training courses: "How to create your own specialized drink" & "Barista training in Phnom Penh".
Don't forget to check out: Coffee Machines Imported By GBS
---
In the end, there are many varieties of ingredients that can define the taste of a drink. These ingredients includes coffee beans, coffee creams, syrups, fruity mixes and powders. Benefits of having these ingredients are, they are low in cost, you could adjust in accordance to your preferences and it's quick to prepare (would save you time). Plus, it's not limited to coffee shops, you could buy these and make homemade beverages.
Apparently, these ingredients imported by GBS also compliments both hot and cold drinks. Furthermore, both alcoholic and non-alcoholic beverages too. Truly some of the best ingredients anyone could acquire to impress themselves with a delightful cup of coffee or any other beverages they are able to wipe up. In addition, has the upper-hand in the realm of taste as well. So, wait no longer and grab some of the best types of coffee/drink ingredients you could ever work with from GBS.